The VISCO360 Viscosurgical System can be used for a variety of viscoelastic-assisted dissection techniques within the anterior segment, but most notably allows surgeons to restore normal aqueous outflow through viscodilation of 360° of Schlemm canal and collector channels through a single clear corneal incision. The instrument's intelligent design is rooted in the integrated handpiece which bestows utility and ergonomically comfortable use. A control wheel advances a semi-rigid, blunt polymer microcatheter through the tip of a curved cannula while reverse actuation of the wheel retracts the microcatheter and activates the internal infusion pump, which automatically deposits a predetermined amount of viscoelastic.
Operation of the device is manually controlled by the surgeon. Built-in mechanisms and precision engineering allow for one-handed control which minimizes the number of additional instruments or scrub nurse assistance. When used in microinvasive glaucoma surgery (MIGS), the single-use instrument uniquely provides ab interno access to 360° of Schlemm canal through a single incision (180° accessed superiorly and 180° inferiorly). As the indication states, the VISCO360 can also be used in any other anterior segment surgical technique that calls for delivery of small amounts of viscoelastic fluid, such as viscoelastic-assisted synechiolysis, IOL capsular dissection, or cyclodialysis.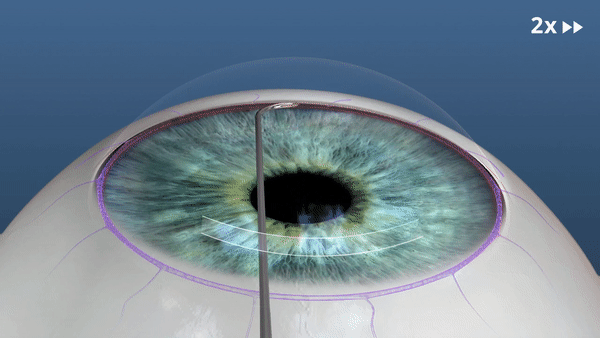 Controlled delivery of viscoelastic to Schlemm canal and collector channels
Expanding Aqueous Outflow
VISCO360's unique mechanism and broad labeling make it a viable option to address aqueous outflow in patients with mild to severe glaucoma during cataract surgery or as a stand-alone procedure. It was specifically designed to access 360° of Schlemm canal in an ab interno procedure through one small corneal incision. The cannula tip is used to create an entry point in the trabecular meshwork and the microcatheter is advanced 180° through Schlemm canal by dialing the control wheel. Reverse actuation of the control wheel simultaneously delivers a controlled volume of viscoelastic fluid to viscodilate the canal and open collapsed collector channels as the device is retracted. The device is removed from the eye, flipped, and the procedure is repeated on the other 180°. Additionally, the nature of this procedure leaves the opportunity open for future trabeculectomies, goniotomies, stent placements, or more aggressive treatments if needed.
Use of VISCO360 in interventional glaucoma surgery is billable under the Category I Current Procedural Terminology (CPT) code 66174 (Transluminal dilation of aqueous outflow canal; without retention of device or stent). In 2017, the Medicare allowable reimbursement amounts for 66174 were:
$1,747 for ambulatory surgery centers (ASC)
$3,417 for hospital outpatient departments (HOPD
$964 for the physician