Description
The MKO Melt is an alternative option to intravenous (IV) anesthesia that is administered sublingually to sedate patients undergoing ocular and other surgical procedures. Its use in surgical procedures is often termed IV free. The combination of midazolam and ketamine HCl provides conscious sedation, also referred to as moderate sedation, to induce a state of relaxation and block pain while ondansetron helps prevent postoperative nausea. The melt typically dissolves under the tongue within 2-5 minutes and goes into peak effect in approximately 15 minutes. In ophthalmology, the MKO melt is most often used during cataract and LASIK procedures.
| | |
| --- | --- |
| Midazolam (3mg) | Sedative |
| Ketamine HCl (25mg) | Anesthetic |
| Ondansetron (2mg) | Antiemetic |
The medication has a lemon flavor and comes in a one-tablet peel pack for $15. The anesthesiologist or nurse anesthetist must determine dosing based on age, weight, and history but one to two tablets is effective for most cataract patients. If the need for additional medication is expected intraoperatively, centers may proactively place a saline lock after the MKO Melt has been administered.
The Sticking Point
Elimination of IV equipment in addition to the time spent administering and monitoring the IV more than makes up for the cost of the MKO melt, especially in patients with "challenging" veins or a fear of needles that may increase anxiety and time required to insert the IV. Dispensing a melt offers a quick and easy alternative with consistent and predictable dosing.
Use of the MKO Melt does not obviate the need for an anesthesiologist or nurse anesthetist or render the services provided ineligible for reimbursement. Sedation with MKO Melt is billable under CPT codes 99151-99157 depending on the age of the patient and the care provider.
The compounds contained in the MKO Melt are familiar to anesthesiologists and CRNAs. The analgesic agents are non-opioid and therefore large dosing adjustments do not need to be made on account of patients' chronic use of opioids. Additionally, they are not subject to recent opioid shortages caused by manufacturing problems and production quotas.
How to use the MKO Melt
Each case must be evaluated individually but this decision tree shows the basic guidelines for use of the MKO melt and intravenous supplementation.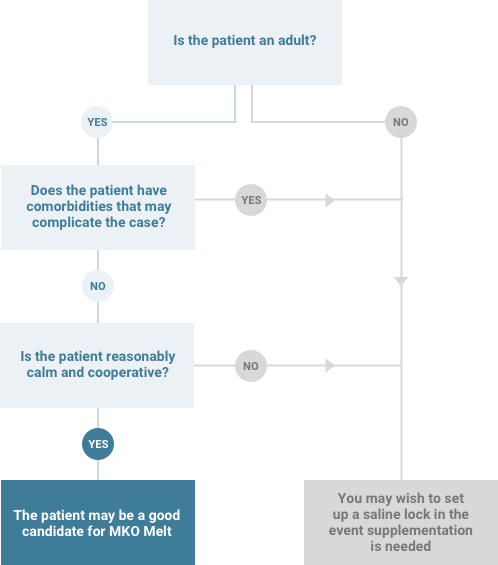 Guide to Dosing
Maggie Jeffries, MD, and Chris Bender, CRNA, offer advice for incorporating the MKO Melt into the preoperative workflow and dosage considerations. These recommendations are based on their experience. Centers are encouraged to play around with the dosing and timing of the medication to suit the needs of their own practice.
In my practice we are using the MKO melt for short duration procedures. The sublingual MKO melt formulation is widely applicable across various health care specialties such as ophthalmology, dentistry, dermatology, plastics, and urology. When dosed properly, patients and practitioners prefer use of the MKO over traditional sedation. Sedation is so effective that we are able to go "IV free" in appropriately selected patients and when an IV is needed, we can use the MKO melt to ease anxiety and discomfort during placement.
Integration of the MKO melt into your practice has a steep learning curve. After the first 30 patients or so, physicians and nurses begin to feel more comfortable with the dosing and timing of the medication. The medication dissolves under the tongue in 3-5 minutes and the patient can feel the first effects around that time. Peak effect occurs at about 20 minutes and is steady for at least an hour.
We like to have the patient put the first melt under their tongue during the signing of consents, paperwork, vital signs, etc., so that surgery isn't delayed waiting for the sedative effects. If the patient isn't sufficiently sedated by the first melt, a second one is given when it is almost time for their cataract surgery. This seems to increase the sedation better than giving two at once. Patients on multiple psychiatric medications, pain medications, and young/robust typically get two melts as the first dose and sometimes a third if needing more sedation.
No adverse events have been witnessed in over 1,000 uses of the medication. Some patients will report a "high" feeling which is likely the ketamine but no negative outcomes related to those feelings. This medication works in all types of patients but is particularly well suited for the overly anxious, young persons, and patients with psychiatric or chronic pain histories.
Most patients require two melts for cataract surgery. Elderly patients over the age of 75 typically do well with only one melt.
At our center, we use the MKO Melt on nearly all surgical patients and start very few IVs. While other centers may still rely a lot on IVs or use the melts as more of a mixed/balanced approach for their sedation, we are confident with the MKO Melt.
If a patient has allergies, adverse reactions, or sensitivities to any of the medications in the melt, we will not use it. If a patient is highly anxious or very young, we will start an IV so we can supplement the sedation levels as needed in the operating room. Also these patients are given larger doses of the MKO melts. For example, if the dose required is 1 melt, I will increase to 1 1/2 melts. There are times when the IV is placed but the sedation was adequate and no additional medication was given. Other times, the IV is placed and we end up supplementing as expected. If a patient is very anxious and afraid of needles, or the prospect of having an IV started, we can give the melts to calm the patient for the IV start itself.
The ketamine contained in the melts is in an analgesic dose range and works on different pain receptors than opioids, hence patients with chronic use of opioids or other psychoactive medications can achieve pain relief and sedation without big dosage adjustments. This is particularly beneficial as most chronic pain patients take opioids to control their pain.
Supplied by a 503B Pharmacy
As a 503B compounding pharmacy, ImprimisRx is able to make medications in bulk without patient-specific prescriptions and ship directly to surgical centers. To satisfy requirements of 503B, facilities are inspected by the FDA and manufacturing protocols must meet Current Good Manufacturing Processes (cGMP) guidelines to safeguard quality and safety. Each batch is tested for potency, sterility, and endotoxins, and continuous environmental testing is conducted to evaluate potential routes of microbial contamination that could arise from the air, surfaces, process, operation, or personnel practices.